I always intend on doing In my Mailboxes (hosten by The Story Siren) but I suck and never actually get around to doing them. SO, I'm going to do a giant one that includes basically the last three weeks. :) So be prepared.... (sung in the scar voice from lion king)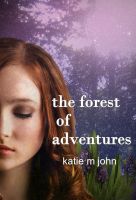 The Forest of Adventures by Katie M. John
Published December 1st 2010 by Little Bird Publishing House
The author sent me an autographed copy of an ARC with an adorable letter inside. I can't wait to read this one. I love Arthurian legends!!
Goodreads Summary: For seventeen year old Mina Singer, falling in love with an Arthurian Knight on a white horse was never part of the plan - especially being that she's an ordinary college girl living in the twenty first century.
As Mina finds herself catapulted into a land she believed only existed in the bedtime stories of her childhood, she soon discovers that Fairyland is not quite as innocent as she imagined.

The question is...who will come out alive?

Haunting, beautiful and sexy, The Forest of Adventures, is a dark romantic quest into the land of true and forbidden love.
Haunting Violet by Alyxandra Harvey
Published June 21st 2011 by Walker Childrens
I have a problem. Everytime I go to Barnes and Noble I buy a, or 4, book(s). This book is a result of one of my Barnes and Noble adventures.
Goodreads Summary:
Violet Willoughby doesn't believe in ghosts. But they believe in her. After spending years participating in her mother's elaborate ruse as a fraudulent medium, Violet is about as skeptical as they come in all matters supernatural. Now that she is being visited by a very persistent ghost, one who suffered a violent death, Violet can no longer ignore her unique ability. She must figure out what this ghost is trying to communicate, and quickly because the killer is still on the loose.


Afraid of ruining her chance to escape her mother's scheming through an advantageous marriage, Violet must keep her ability secret. The only person who can help her is Colin, a friend she's known since childhood, and whom she has grown to love. He understands the true Violet, but helping her on this path means they might never be together. Can Violet find a way to help this ghost without ruining her own chance at a future free of lies?
Fins Are Forever by Tera Lynn Childs
Published June 28th 2011 by HarperCollins Children's Books
Goodreads Summary:
On Lily Sanderson's eighteenth birthday she'll become just a girl—still a mergirl, true, but signing the renunciation will ink Princess Waterlily of Thalassinia out of existence. That leaves plain old Lily living on land, dating the boy she loves, and trying to master this being-human thing once and for all.
Now that Lily and Quince are together, mer bond or not, she's almost content to give up her place in the royal succession of Thalassinia. But just when she thinks she has everything figured out, the waves start to get rough. Lily's father sends a certain whirlpool-stirring cousin to stay with her on land. What did Doe do to get herself exiled from Thalassinia and stuck in terraped form when everyone knows how much she hates humans? And why why why is she batting her eyelashes at Lily's former crush, Brody?
The seafoam on the raging surf comes when a merboy from Lily's past shows up—Tellin asks Lily for something that clouds her view of the horizon. There's a future with Quince on land, her loyalty to the kingdom in the sea, and Lily tossing on the waves in the middle. Will she find a way to reconcile her love, her duty, and her own dreams?
Tera Lynn Childs's sequel to Forgive My Fins offers another tail-flicking romance with plenty of fun, sun, and underwater adventure.
Vanish (Firelight #2) by Sophie Jordan
Expected publication: September 6th 2011 by HarperTeen
This is an ARC that my blogger buddy Brooke picked up at ALA in New Orleans this past month. She was sweet enough to give me her extra copy. :) Isn't she just a saint. She doesn't believe me.
Goodreads Summary: To save the life of the boy she loves, Jacinda did the unthinkable: She betrayed the most closely-guarded secret of her kind. Now she must return to the protection of her pride knowing she might never see Will again—and worse, that because his mind has been shaded, Will's memories of that fateful night and why she had to flee are gone.

Back home, Jacinda is greeted with hostility and must work to prove her loyalty for both her sake and her family's. Among the few who will even talk to her are Cassian, the pride's heir apparent who has always wanted her, and her sister, Tamra, who has been forever changed by a twist of fate. Jacinda knows that she should forget Will and move on—that if he managed to remember and keep his promise to find her, it would only endanger them both. Yet she clings to the hope that someday they will be together again. When the chance arrives to follow her heart, will she risk everything for love?

In bestselling author Sophie Jordan's dramatic follow-up to Firelight, forbidden love burns brighter than ever.
Sweet Venom (Medusa Girls #1) by Tera Lynn Childs
Expected publication: September 6th 2011 by Katherine Tegen Books
Goodreads Summary: Grace just moved to San Francisco and is excited to start over at a new school. The change is full of fresh possibilities, but it's also a tiny bit scary. It gets scarier when a minotaur walks in the door. And even more shocking when a girl who looks just like her shows up to fight the monster.

Gretchen is tired of monsters pulling her out into the wee hours, especially on a school night, but what can she do? Sending the minotaur back to his bleak home is just another notch on her combat belt. She never expected to run into this girl who could be her double, though.

Greer has her life pretty well put together, thank you very much. But that all tilts sideways when two girls who look eerily like her appear on her doorstep and claim they're triplets, supernatural descendants of some hideous creature from Greek myth, destined to spend their lives hunting monsters.

These three teenage descendants of Medusa, the once-beautiful gorgon maligned by myth, must reunite and embrace their fates in this unique paranormal world where monsters lurk in plain sight.

Starcrossed by Josephine Angelini
Published May 31st 2011 by HarperTeen
I've heard such good things about this one, I can't wait to actually sit down and read it. :)
Goodreads Summary:
How do you defy destiny?
Helen Hamilton has spent her entire sixteen years trying to hide how different she is—no easy task on an island as small and sheltered as Nantucket. And it's getting harder. Nightmares of a desperate desert journey have Helen waking parched, only to find her sheets damaged by dirt and dust. At school she's haunted by hallucinations of three women weeping tears of blood . . . and when Helen first crosses paths with Lucas Delos, she has no way of knowing they're destined to play the leading roles in a tragedy the Fates insist on repeating throughout history.
As Helen unlocks the secrets of her ancestry, she realizes that some myths are more than just legend. But even demigod powers might not be enough to defy the forces that are both drawing her and Lucas together—and trying to tear them apart.
Undercurrent (Siren #2) by Tricia Rayburn
Published July 12th 2011 by EgmontUSA
I haven't technically even read the first book in this series, but I know that I'll want to read the second one. It IS about Sirens... which is pretty BAMF. and my Mommy bought me this book. :)
Goodreads Summary:
The sirens are back, but Vanessa may be the biggest threat of all. . . .

Nothing has been normal since Vanessa Sands learned that her sister was murdered by sirens—femme fatales of the watery depths—and that everything she believed about her family was a lie. Her boyfriend Simon's been the only person Vanessa feels she can really trust. But now there are some secrets she can't tell even him. And when Vanessa finds herself in the sights of Parker, Hawthorne Prep's resident charmer, she needs someone to confide in more than ever. Doubting her relationship with Simon, unsure of Parker's intentions—and of her own—and terrified by what she's learned about herself, Vanessa has never felt so alone.
But personal problems must be put aside, because the Winter Harbor sirens are back for revenge. Now, Vanessa must face her past and accept that she is just like her enemies—every bit as alluring, every bit as dangerous.

The eagerly anticipated second novel of the Siren trilogy, Undercurrent is a seductive paranormal romance that will leave you breathless.
Forever (Wolves of Mercy Falls #3) by Maggie Stiefvater Published July 12th 2011 by Scholastic, Inc.
This copy is signed, and she drew a cute little howling wolf. :) I've been so excited for this book for so many reasons. 1. It's red... with red writing... epic. 2. I love this series 3. IT"S THE LAST ONE.
Goodreads Summary:
The thrilling conclusion to #1 bestselling Shiver trilogy from Maggie Stievater
In Maggie Stiefvater's SHIVER, Grace and Sam found each other. In LINGER, they fought to be together. Now, in FOREVER, the stakes are even higher than before. Wolves are being hunted. Lives are being threatened. And love is harder and harder to hold on to as death comes closing in.






Supernaturally by Kiersten White
Published July 26th 2011 by HarperTeen
I LOVE Kiersten White, She is soooo funny. I can't wait to read this one.
Goodreads Summary:
Evie finally has the normal life she's always longed for. But she's shocked to discover that being ordinary can be . . . kind of boring. Just when Evie starts to long for her days at the International Paranormal Containment Agency, she's given a chance to work for them again. Desperate for a break from all the normalcy, she agrees.
But as one disastrous mission leads to another, Evie starts to wonder if she made the right choice. And when Evie's faerie ex-boyfriend Reth appears with devastating revelations about her past, she discovers that there's a battle brewing between the faerie courts that could throw the whole supernatural world into chaos. The prize in question? Evie herself.
So much for normal.
The Eternal Ones by Kirsten Miller
Published July 12th 2011 by Razorbill
I'm a book snob, I like my books new and hardcover, but I just loved this cover. So i waited for it to be published in Paperback. :)

Goodreads Summary:
Haven Moore has always lived in the town of Snope City, Tennessee. But for as long as she can remember, Haven has experienced visions of a past life as a girl named Constance, whose love for a boy called Ethan ended in fiery tragedy.

One day, the sight of notorious playboy Iain Morrow on television brings Haven to her knees. Haven flees to New York City to find Iain and there, she is swept up in an epic love affair that feels both deeply fated and terribly dangerous. Is Iain her beloved Ethan? Or is he her murderer from a past life? Haven asks the members of the powerful and mysterious Ouroboros Society to help her unlock the mysteries of reincarnation and discover the secrets hidden in her past lives, and loves, before all is lost and the cycle begins again. But what is the Ouroboros Society? And how can Haven know whom to trust?
Dead Beautiful by Yvonne WoodPublished September 21st 2010 by Hyperion Book CH
I've wanted this one for a while, but for some reason I never bought it. However, Nic and I went to Border's "Blowout Sale"... which was really Barnes and Noble prices for members... that was disappointing... BUT we had driven all the way to Rosevill (45 mins away) so I HAD to get something... and I saw this one and then knew it was time. :) (The trip wasn't a complete waste... Roseville has a 2 story Forever 21. YAY!)
Goodreads Summary: On the morning of her sixteenth birthday, Renée Winters was still an ordinary girl. She spent her summers at the beach, had the perfect best friend, and had just started dating the cutest guy at school. No one she'd ever known had died. But all that changes when she finds her parents dead in the Redwood Forest, in what appears to be a strange double murder.
After the funeral Renée's wealthy grandfather sends her to Gottfried Academy, a remote and mysterious boarding school in Maine, where she finds herself studying subjects like Philosophy, Latin, and the "Crude Sciences."
It's there that she meets Dante Berlin, a handsome and elusive boy to whom she feels inexplicably drawn. As they grow closer, unexplainable things begin to happen, but Renée can't stop herself from falling in love. It's only when she discovers a dark tragedy in Gottfried's past that she begins to wonder if the Academy is everything it seems.
Little does she know, Dante is the one hiding a dangerous secret, one that has him fearing for her life.
Dead Beautiful is both a compelling romance and thought-provoking read, bringing shocking new meaning to life, death, love, and the nature of the soul.

AND LAST BUT NOT LEAST....
Wildefire by Karsten KnightPublished July 26th 2011 by Simon & Schuster Children's Publishing
This is by far the one that I've been waiting for the longest, and most excited about. :) Karsten is Awesome... he's just so freaken funny, and occassionally we chat back and forth on Twitter. He's just a hoot. I love reading gods/goddess books... everything about this book screams amazing! From the cover to the author to the synopsis.... :)
Goodreads Summary: Every flame begins with a spark.
Ashline Wilde is having a rough sophomore year. She's struggling to find her place as the only Polynesian girl in school, her boyfriend just cheated on her, and now her runaway sister, Eve, has decided to barge back into her life. When Eve's violent behavior escalates and she does the unthinkable, Ash transfers to a remote private school nestled in California's redwoods, hoping to put the tragedy behind her. But her fresh start at Blackwood Academy doesn't go as planned. Just as Ash is beginning to enjoy the perks of her new school—being captain of the tennis team, a steamy romance with a hot, local park ranger—Ash discovers that a group of gods and goddesses have mysteriously enrolled at Blackwood…and she's one of them. To make matters worse, Eve has resurfaced to haunt Ash, and she's got some strange abilities of her own. With a war between the gods looming over campus, Ash must master the new fire smoldering within before she clashes with her sister one more time… And when warm and cold fronts collide, there's guaranteed to be a storm.

So that's pretty much what's new... there are actually a few more... but I honestly got sick of googling cover pictures and looking books up on goodreads. :) I'm on like page 7 of Wildefire and hope to have a review up on that within the week... but that might be the hopefulness talking. I might post a Teaser Tuesday later... but like I said... Page 7... so It might be a boring one. What are you reading right now???